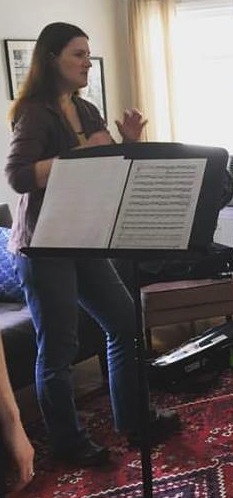 Stephanie Aston Voice Studio

Stephanie teaches voice lessons, both individual and group, out of her home studio in North Hills, CA. All lessons are currently online. She has her Doctorate in Voice Performance from UC San Diego. She has taught individual and group lessons, both privately and at the college level, for fifteen years. Stephanie teaches many styles of singing including classical, opera, musical theater, jazz, pop, and rock, and can teach all levels, from beginning to professional. She believes in establishing and maintaining a healthy vocal technique, connecting with the body and the music. Each student is unique, and lessons are catered to the abilities and goals of the student. Stephanie has an infectious love for music that she passes along to her students. Topics covered, depending on student needs, include:
Breathing/Support
Projection/Resonance
Music Reading
How to warm up the voice
Pronunciation for singing
Working on Songs

Please contact Stephanie if you have questions and are interested in taking lessons.
Rates
(For individual lessons only. Contact for small group rates.)

In Studio (North Hills, Los Angeles):
60 minutes $120
45 minutes $90
30 minutes $60

In Student Home:
60 minutes $150
45 minutes $120
30 minutes $90
Please note: Only in rare and special circumstances will in-home lessons be available.
This will be on a case-by-case basis and up to the discretion of the instructor.
Policy
1. Payment––Payment for each lesson must be received before or at the beginning of each scheduled lesson. Lessons which are given without payment will incur a late charge of $10 during the first week following the lesson, and an additional $10 for each subsequent week. No exceptions will be made to this policy.
Students may choose one of the following options:
❏ Option A––Full month's payment is due by the first lesson of each month. Payments may be submitted by mail or may be brought to the first lesson of each month.

❏ Option B––Payments are made on a lesson by lesson basis. Note: Students who neglect to bring payment to each lesson will automatically be put on a monthly payment plan.
2. Cancellations––Upcoming lessons must be cancelled or rescheduled no later than 24 hours ahead of time. A lesson that is cancelled without sufficient notice will be designated as "missed" and will be charged as a full lesson. A make-up lesson may be offered in some circumstances, at the teacher's discretion. No exceptions will be made to this policy.

3. Teacher cancellations––The teacher may cancel a lesson with 24 hours' notice. The student may opt to receive a make-up lesson or cancel altogether. Lessons cancelled with sufficient notice will be credited to the following month. On the rare occasion that the teacher must cancel a lesson with less than 24 hours' notice, the student will receive an additional lesson's credit for the following month.

4. Billing rate––Student billing rates may be adjusted at any time. All rate adjustments will be published in writing for reference.

5. Starting time––Lessons will begin and end on time. The teacher will wait 10 minutes if the student is late. Lessons that begin late will still end at the scheduled ending time.